Fruit Strudels
Our Fruit Strudels are made from scratch with the finest ingredients. You can order a single strudel or a whole strudel, which will satisfy 10 – 12 people. Our Fruit strudels are freshly baked, therefore we require a 24-hour notice on all orders.

Single Fruit Strudel
5 x 5 inches
Single Serving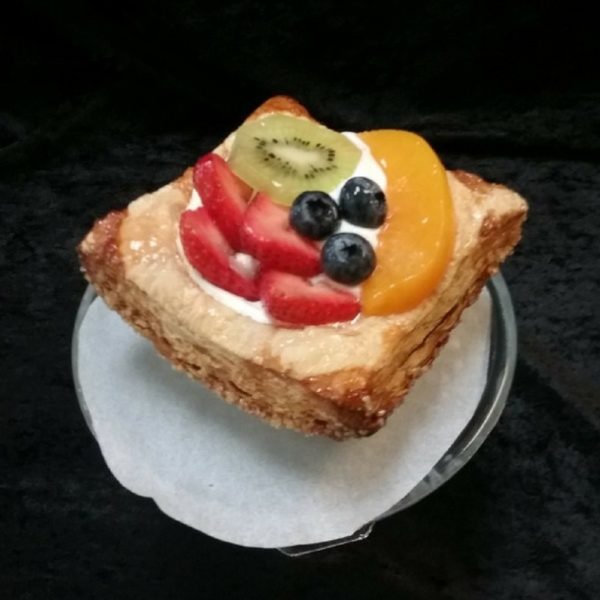 $5.00 each
Item Not Found
Family Size Fruit Strudel
21 x 7 inches
Serves 10 – 12 adults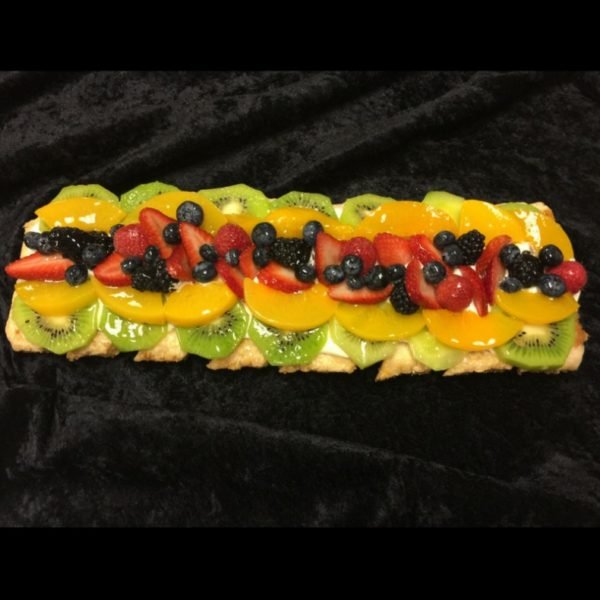 $34.99 each
Item Not Found
Our Fruit Strudels are made from scratch with the finest ingredients. The Single Strudel is 5 x 5 inches, and plenty big to satisfy even the hungriest strudel lover. Our Family (or Party size) strudel is 21 x 7 inches of pure fruity goodness! The Family size are perfect for business meetings, family events, weddings, parties or just about anywhere you want to impress your guests!
All of our fruit strudels include:
Strawberries
Kiwi
Peaches
Blueberries
Blackberries
Rasberries
Add Mangoes by request
To customize what fruit is on your strudel, please call us before you order and tell us what fruit you want.
Bakery Phone (925) 462-3333
We begin creating your strudel(s) after you place your order online or call in your order to our bakery number (925) 462-3333.
Your order will be ready the next business day, or "24 business hours". So if you order at 3pm on Thursday, you order will be ready by 3pm Friday. However, if you order at 3pm on a Saturday or Sunday, your order will be ready on Tuesday morning.
We start with gourmet puffed pastry, then we add melted butter, Bavarian cream and fruit with our special glaze, then gently slide it into the oven to bake. The delicious smell of baked fruit fills our entire bakery! It's glorious!
There is no preparation needed by you. Your delicious gourmet fruit strudel is ready to eat the moment you pick it up!
I hadn't tried a fruit strudel in years. I got the single serving fruit strudel, which was HUGE by the way, and it was sooo good! If you like strudels, you gotta try Noland's fruit strudels!
- Robert Early, Pleasanton
For our business meetings, we almost always get a few boxes of doughnuts and croissants, but we had some big wigs coming in from New York to check out our sales numbers, so I wanted to spice up the meeting. Noland's Party Size strudel fit the bill. We had 10 attendees total, and the Family Size Fruit Strudel was big enough that we had left-overs! And the VP's from NYC kept talking about how good the Strudels were. Thanks Nolands!
- Greg Fisher, Sacramento
If you have other questions, please see our FAQ page, or call us at (925) 462-3333. We'd love to talk to you!
Want to Customize Your Strudel?
After you place your order, call and let us know what you want to say!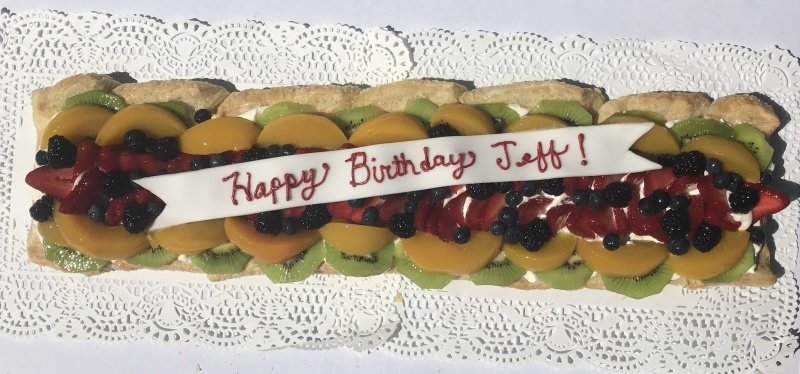 Birthday Strudel!
Shop Our Other Desserts
We are proud to offer a variety of Signature Cakes, Cupcakes and Cookies that are freshly baked within hours, if not minutes, for your enjoyment. We carefully bake in small batches by hand each day using the finest ingredients sourced
from local, sustainable producers.
Today's Online Ordering Hours
9:00am to 5:00pm
Online Ordering Currently Closed
Order in Advance Available
Want Something Custom?
We specialize in custom cakes and desserts! Check out our gallery for inspiration, or call us and let's talk about a completely custom design for your next event!